European Alps Ride – Germany, Austria, Italy and Switzerland
from $3,887 (EUR)
per person
Mid Life Adventures searches the globe for new and exciting rides and in 2020 we are running an exclusive ONE OFF ride through the magnificent European Alps crossing 4 countries- Germany, Austria, Italy and Switzerland.
This tour is all about riding the best passes and switchbacks in the Swiss, Austrian, and Italian Alps. From beautiful Munich, we ride into the Austrian Alps, warming up our riding skills before beginning to crisscross the region in search of some of the best mountain roads in the world.
This ride is not for the faint of heart or inexperienced, but the rewards are many: stunningly beautiful Alpine peaks, deep clear Alpine lakes, fairy tale villages, adrenaline rushing mountain curves. The tour ends where it begins, in Munich, but not before capturing the Holy Grail of Alps riding – Italy's famous Passo di Stelvio, and Austria's highest, the Grossglockner.
Road riding does not get any better than this.
We are limited to 14 riders so don't miss out on ticking this ride off your bucket list.
As you are aware MLA is a not for profit business and as with all our rides our aim is to cover our costs NOT make a profit so we are able to offer you this all inclusive ride on BMW's at the special price under 4000 Euros (land content only).
Arrive early to enjoy Munich Beer Halls , the BMW Museum and many other attractions or extend your trip and take a short trip across to Italy, Greece or Spain.
I have attached the ride notes covering the tour, pricing and options available.
This is a really special ride for MLA as it is our first in Europe and it will be a cracker so get in with your booking enquiry before the tour is filled. 
Tour at a Glance
Period
24th August to 1st September
Duration
9 Days / 8 Nights
Riding Days
7 Days (optional 8 Days)
Accomodation
Hotels (very nice, mostly 4 star)
Motorbike
BMW F750 GS Standard/low (Upgrades Available)
Average Daily Distance
200 - 330 km approx
Total Distance
1,800 km approx. (the route is subject to change at the discretion of the tour provider)
Cost
from $3,887 (EUR) Airfare not included
Licence
Yes, you need a Licence to go on this adventure. Also you need a valid License to obtain travel insurance.
Excluded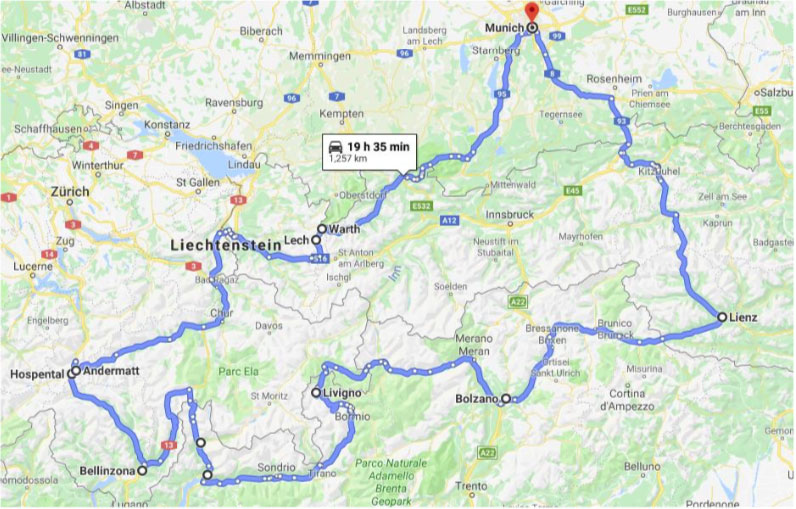 Departure

Munich, Germany

Departure Time

24th August 2020

Return Time

1st September 2020
1
Pre-Tour Munich Stay and Play
Munich, Bavaria's capital, is home to centuries-old buildings and numerous museums. The city is known forits annual Oktoberfest celebration and its beer halls, including the famed Hofbräuhaus, founded in 1589. In the Altstadt (Old Town), central Marienplatz square contains landmarks such as Neo-Gothic Neues Rathaus (town hall), with a popular glockenspiel show that chimes and re-enacts stories from the 16th century.
Munich is also the home of BMW and the museum is well worth a visit.
MLA will arrange accommodation in Munich central for those who chose to arrive early which is highly recommended if you have not been to this historic but modern city and depending on numbers will arrange for a one day tour covering Munich major highlights. (Both at additional cost)
2
Day 1. Arrival in Munich
Welcome to Germany!
We will greet you at Munich airport and take you to the hotel in Freising which is located about 25 minutes to the north of Munich. Freising is the oldest town in Bavaria with an almost 1300 year history and we will have time to explore before the tour briefing. For those arriving early on day 1, you can take the train to Munich. Situated on the River Isar, north of the Bavarian Alps, Munich is a beautiful city and has a lot to offer, whether you are interested in history, parks and greenery, night life, beer gardens or shopping.
At 4 PM we'll meet for an introductory meeting and wrap up our first day in one of the traditional restaurants toasting with one of the many craft beers Bavaria is known for.
3
Day 2. Munich - Warth
We will spend much of today meandering southward through pastoral Bavaria, past crystal blue lakes and inviting medieval towns.
On the route to Warth, we'll make time to visit one of the famous King Ludwig's Linderhoff, his private retreat near Garmisch. We'll begin encountering some gentle sweepers and then increasingly challenging passes as the snow-topped Bavarian Alps give way to the Austrian Alps.
We'll end Day 2 unwinding in the charming, cozy ski resort town of Warth, high in the Alps.
4
Day 3. Warth - Andermatt
From picturesque Warth, where crisp, clean mountain air is guaranteed, we'll continue west through Lech toward Switzerland, crossing the postage stamp- sized monarchy of Lichtenstein along the way; we'll stop for obligatory coffee in the dramatic, hillside capital city of Vaduz.
Once across the Swiss border, we can enjoy the quiet, forested area around Walensee Lake, before scaling our first major pass of the day—the Klausen. From there we'll continue west through Altdorf, made famous by the legend of William Tell, and then south toward Andermatt, Swiss motorcycle motherland and our base for two nights.
Andermatt is a charming village in the heart of the Swiss Alps which has been welcoming visitors for more than a century.
5
Day 4. Rest day in Andermatt
In the Andermatt vicinity there are several passes waiting to be conquered.
Most Alpine motorcycle experts consider the Andermatt region in Switzerland and the Dolomites of Italy to be the "must ride" roads of the Alps. It'll be a hard choice which direction to ride today. There's the architecturally impressive Sustenpass road to the north and Grimsel and Furkapass to the west. South of Andermatt there's Nufenenpass, at 2500m the highest pass in Switzerland. Gotthard Pass, with its breathtaking views awaits us further south. Not far from our base there is also the Great Aletsch Glacier, the largest glacier in the Alps and UNESCO World Heritage site, accessible by cable car.
Gotthard region is truly unique and offers a lot of possibilities both for bikers and nature lovers. You can also ride to Zermatt, the village at the foot of the Matterhorn, the most photographed mountain in the world.
6
Day 5. Andermatt - Bormio
We will continue to experience many exhilarating roads, challenging sweepers, and picture-perfect Alpine scenery.
First we'll scale Oberalppass, widely regarded as the pass with the finest sequence of sweepers. Next, we'll head south toward Italy and ride the less well- known but equally enjoyable Lukmanierpass. After lunch and a short break, we'll be ready to test our riding skills on Passo del Bernardino and then Splugenpass, with one end in Italy and the other in Switzerland. After a short ride through Italy, we'll re-enter Switzerland via the spectacular Maloja Pass, passing the ski resort town of St. Moritz and south over the Berninapass to the Italian tax-free paradise of Bormio, our base tonight.
7
Day 6. Bormio - Colfosco
Colfosco is our gateway to a series of high passes straddling the Swiss-Italian border.
After breakfast, we'll ride north a few kilometres through Switzerland's Ofenpass before dropping back down into Italy through the Umbrail Pass. Our next challenge, Stelvio Pass, will make these first two seem like mere warm-ups. At almost 2800 m, Stelvio is one of the two highest rideable mountain passes in the Alps! Ride switchbacks galore, and, if you dare look up from the road, some of the most beautiful high mountain panoramas in the world. The route to our last major pass of the day, Passo di Gavia, inspires with its lakes, narrow chicanes, and wildness.
We will end our day in Colfosco in the middle of the fabulous Dolomites.
8
Day 7. Colfosco - Lienz
From Corvara we'll first ride several fantastic passes one after another: Falzarego, Giau, Pordoi, etc.
This high altitude playground for motorcyclists exists today because of the road building efforts of Italian and Austro-Hungarian forces along what was a bitterly contested front through here in WWI. We'll end our day across the border in Austria in the medieval town of Lienz and say good bye to the Dolomites, the ultimate riding destination. The area of Lienz had been settled since the Bronze age about 2000 BC.
Time permitting we will visit Bruck Castle, the landmark of Lienz and a beautiful building filled with local history. The famous medieval fortress has a museum chronicling the region's rich heritage.
9
Day 8. Lienz - Munich
Today we will ride the best, most exhilarating roads in the Austrian Alps, including the famous Grossglockner High Alpine Road.
Running through the heart of the Hohe Tauren National Park to Austria's highest peak, Mt Grossglockner (3798m), this classic twisty throws 36 curves into your path over 48 km up to an altitude of 2504 m! Once off the mountain, anyone looking for some exposure to Austrian culture and history may detour to medieval Salzburg for a coffee and bit of exploration. From here, much our ride back to Munich will be through the spectacular Alpine foothills of southern Bavaria. The German Alpine Road, Grande Dame of Germany's scenic byways, will carry us over a landscape dotted with castles, baroque churches, viaducts, and abbeys. By late afternoon, Munich will greet us once more.
That evening, we'll meet for our farewell dinner.
Deposit:
As costs are quoted in Euro there will be some variation in exchange rates to be adjusted at time of final payment. For initial deposits a rate will be adopted which is the current NAB transfer rate AUD: Euro
The ride component is confirmed. The pre tour accommodation is yet to be sourced and will be advised once known. This amount quoted is estimate only and subject to change. You will be notified closer to the deposit due date of the confirmed cost and deposit required.
Deposit due dates and amounts are as follows:
Holding deposit: An amount of AUD$1500 will be required to secure your position on this tour. This amount will be deducted from the 35% booking deposit.
Deposit date and amount: to be advised
Final balance and payment date – to be confirmed
Please ensure that deposits are paid strictly on or before due dates to the following account:
Account Name: Mid Life Adventures Bank: National Australia Bank
BSB: 083-153
Account: 72-936-3834
Notation for payment: EAR20 <Surname> e.g. EAR20 Burton
Please note Clause on Booking form in relation to Cancellation.
Flights and Luggage
Jenny Gill of New Farm Travel Email jenny@newfarmtravel.com.au Ph 07 33586588, has been appointed to be used exclusively by Mid Life Adventures for all travel arrangements. Jenny is a sister of one of our regular adventurers and has excellent knowledge of all areas we travel.
For flights from your home destination and return, you will deal directly with Jenny and NOT through MLA. Jenny will advise closer to our departure date of the 'best 'flight available to have you in to Munich on dates to be advised for your on forward flight to your home destination.
In regard to luggage, I have found it difficult to travel on adventure rides internationally with less than 30 kgs of luggage so all flight costings will include 30 Kg of checked luggage plus 7kg of carry-on luggage which is allowed by all airlines.
If you have any queries on flights or luggage, call Jenny direct.