Thai – 2 LOOP Adventure Ride
from 110,000 (THB)
per person
Ride through the mountainous areas to the east and south east of Chiang Mai on sweeping, well-made roads passing beautiful villages, staying in classy accommodation and enjoying the use of near new Kawasaki Versys 650 adventure bikes.
A quick changeover on day 6 will have you on CRF 250's heading for the hills of the national parks and along the border of Thailand and Burma through rivers and small local villages where you will sample what life in remote Thailand is really like.
Unique 12 DAY dual-terrain, dual-bike adventure ride in Northern Thailand
Discover Thailand in two different ways:
Loop 1 (On-road Blast)
Loop 2 (Off-road Blast)
The tour provides an outstanding opportunity to obtain a thorough impression of the uniqueness of North Thailand. We will explore small, almost hidden routes that are unknown to many. This excursion will take you to the most beautiful countryside.
We know what you want: great roads, no traffic, no speed cams and stunning scenery. The two loops can deliver all that and more. Ride, for example, the famous Golden Triangle, at the Mekong River – the border between Thailand, Myanmar and Laos, to take a long-tailed-boat trip and short visit to a small village in Laos.
Ride the famous highway No. 1148, ranked as one of the top 10 best riding roads all over the world. This amazing motorcycle road takes us through fabulous mountain scenery to Nan.
Ride along the unique panorama of the border between Laos and Thailand. Cross the Sirikit dam reservoir on a wooden ferry and visit the mountainous scenery of the unseen Phrae.
Ride off-road open mountain double track and great jungle single track with over fifty river crossings in one day – this is just about the best trail riding anywhere in the world. Ride with us the true bikers paradise!
This 12 DAY TOUR does include the arrival and the departure day, this means we will actually have 10 days on the road. The hotel on the arrival and departure day is of course including the tour price.
Tour at a Glance
Duration
12 Days / 11 Nights
Riding Days
10 Days - Loop 1: 5 Days (Road) / Loop 2: 5 Days (Offroad)
Accomodation
Hotels and Lodges
Motorbikes
Kawasaki Versys 650 Adventure Bike & CRF 250
Level of Difficulty
Moderate
Average Daily Distance
122km
Cost
from 110,000 (THB) International Airfare not included
Licence
Yes, you need a Licence to go on this adventure. Also you need a valid License to obtain travel insurance.
Excluded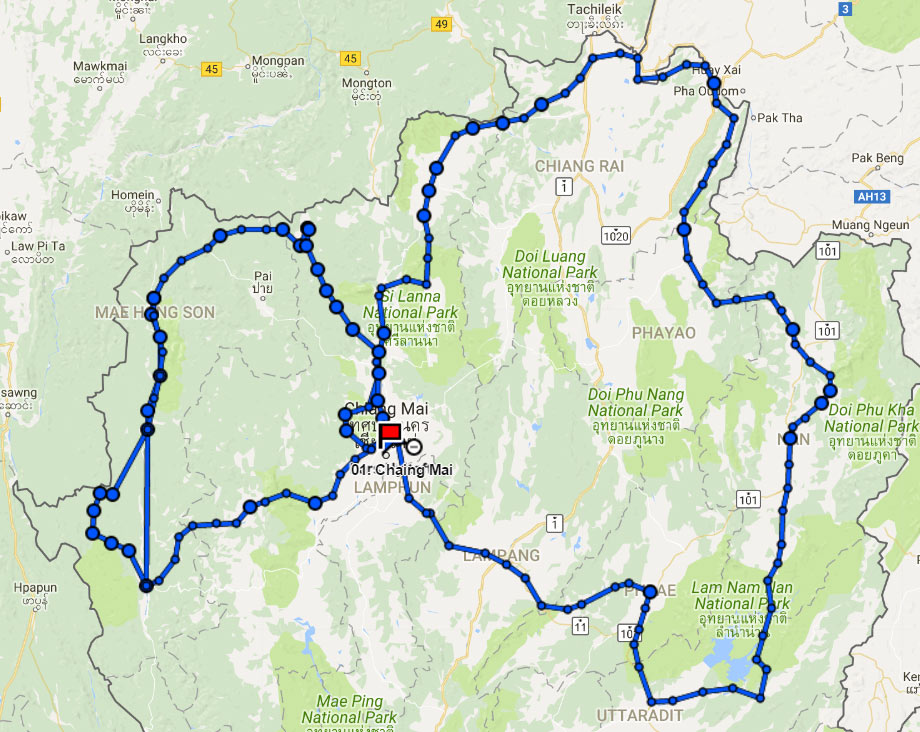 Departure

Chiang Mai

Return Time

November to March
1
Day 1. Chiang Mai, Arrival
Arrival at Chiang Mai Airport (International Terminal) from Bangkok. Your guide will await you outside customs hall and transfer you to "Amora Hotel", 4 star hotel; in the centre of old Chiang Mai city (Thapae Gate) with swimming pool and good nightlife around.
Dinner with the tour crew at on of the famous biker meeting point in Chiang Mai, the "Kafe 1985".
2
LOOP 1 (Onroad Blast) | DAY 2. Chiang Mai – Thaton, 300 kms
Familiarise yourself with the bike while heading north of Chiang Mai. You will ride on windy mountain road to Than Tong waterfall and Mae Kachan hot spring. Continue on true bikers paradise roads until you reach Phayao.
Visit Phayao lake (Kwan Phayao) one of the largest lakes in Northern Thailand. Lunch is served at a local restaurant in front of the lake. Ride the exhilarating, mountainous highway No. 1148 to Nan, ranked in the Top 10 as one of the most fun biking road to be found anywhere in the world. 120 kilometres of up and down curves through the impressive mountains providing you with pure riding pleasure.
Visit Wat Phra That Khao Noi (Nan hilltop scenic temple) before relaxing in your lovely accommodation and jump in the swimming pool.
3
Day 3. Nan – Sukhothai (345 kms.)
After breakfast, we leave Nan riding through winding mountainous roads. We then take the motorbikes on a wooden ferry across the Sirikit Dam reservoir. Sirikit Dam is the largest earth dam in Thailand. It's used for irrigation, fisheries, flood control and as well as hydro-electric power generation.
Lunch is served at Sirikit Dam.
Then we continue on the highway passing through rice fields until we reach Sukhothai. Visit the Ancient Sukhothai Historical Park, designated world heritage site number 574 on 12 December 1991 by UNESCO and enjoy the amazing sunset in the old ruins. A magical and memorable scene.
Later you arrive at the guest house, where you enjoy the charming accommodation.
4
Day 4. Sukhothai – Khao Kho (191 kms.)
After breakfast, we ride on one of the best roads to discover Thailand´s "Little Switzerland". Visit Wat Pha Sorn Kaew, "the ceramic and celadon temple" before we reach Khao Kho.
Lunch is served at a local restaurant.
Khao Kho is a district over 1000 meters above sea level: Often with a misty, 360 degree panoramic view and refreshing weather the entire year (18 – 25 Celsius degree).
Later you will enjoy and relax in your peaceful accommodation.
5
Day 5. Khao Kho – Uttaradit (221 kms.)
After breakfast, we visit Khao Kho Memorial Sacrifice monument and weapons museum. Between 1965 – 1984, this mountain area was the battle field of the Thai Communist Party and the Thai Royal Army. Then we continue downhill, cruising to Chat Trakan National Park waterfall.
Lunch is served at a local restaurant.
Continue along winding roads until we reach unseen Uttaradit, where you can relax at the beautiful accommodation near the river.
6
Day 6. Uttaradit– Chiang Mai (237 kms.)
After breakfast, we leave Uttaradit cruising along the highway to Den Chai, we visit a large reclining Buddha. We continue riding through winding mountainous roads to Lampang.
Lunch is served at a local restaurant.
We visit the Thai Elephant Conservation Centre and world's first elephant hospital. We continue riding, passing through national parks and farming areas. Visit a local market, stopping for refreshment, before heading back to Chiang Mai.
7
LOOP 2 (Offroad Blast) | Day 7. Chiang Mai – Mae Sarieng
The first morning off-road blast we have to do a two and a half hour tarmac blast before arriving at the off road section of the day. This would be the longest distance day of the trip as we would have to do a long stretch of road before getting to the off-road section. Single track and double track with some big hill climbs. Mostly open mountain trails with great views.
It will start with a very steep single track climb up into the mountains to follow onto double track through Karen hill tribe villages.
8
Day 8. Mae Sariang – Khun Yuam (Salaween National Park Loop)
Some open high mountain double track leading to great jungle single track running through river and stream beds with over fifty river crossings in one day - this is just about the best trail riding any where in the world.
Down to the Salaween river a snack on a floating shop if time permits.
A couple of very steep ascents and descents and onto a lot of small river crossings through dense jungle. A long tough day with an early start needed.
9
Day 9. Khun Yuam – Mae Hong Son
A relatively easy day with the largest river crossings of our trip, some nice single track with lovely forest coverage. Following by single trail and double track. Covered jungle and some big river crossings.
10
Day 10. Mae Hong Son – Piang Luang
Early start the biggest day of the trip. Cross into Myanmar today possibly if we follow the wrong track! Double track with fantastic mountain views along the Myanmar border and into Myanmar at times. Big open mountain views on double track. Some extremely steep and rutted single track and very hairy downhill single trail in dense jungle to finish the day. Staying close on the Myanmar border.
11
Day 11. Piang Luang – Chiang Mai
A day to sort the boys from the men with some of the most treacherous narrow single trail with huge drop-off's into the jungle. Some great flowing jungle double trail and the hairiest mountain downhill single trail to finish the day.
12
Day 12. Chiang Mai, Departure
Relax at hotel, check out and leave for airport or stay and explore Chiang Mai and surrounding area.