Temüjin Tour of Mongolia
from $3,200 (USD)
per person
Join Mid Life Adventures on Royal Enfield 'Himalaya' Adventure motorcycles to explore the land of Temujin (Genghis Khan) where vast plains meet the sky and where the nomadic life is still a living tradition. Our tour starts with a two day tour of the 'best of Beijing' including the Great Wall and Forbidden City then following the short flight to Ulaanbaatar where we embrace Mongolian culture and history, we ride in to the vastness, the forests, the plains, the sand dunes and the valleys.
Sleeping and dining in traditional gur camps is an experience in itself. Swim in volcanic hot springs, walk through 200 year old monasteries and celebrate two days of the spectacular annual Nadaam festival.
Historic Plains of Mongolia where Genghis Khan Travelled
From the capital city across the lush, green Steppes, among the turquoise coloured lakes and through the hills and mountains, we will traverse the most spectacular region of Mongolia from the Centre to the North West.
Between our invigorating rides, we'll experience the authentic culture of the Eagle hunters and overnight with nomadic families in their Yurts in the middle of nowhere.
Rugged Mongolia is a mind blowing adventure destination where ancient traditions are still practised daily by the hardy wanderers of the country's vast steppes and deserts. This Mongolia motorcycle tour is designed to give you a most extraordinary and fantastic experience, immersed in the nomadic existence as a free, wild spirit.
Tour at a Glance
Period
29th June - 14th July 2020
Accomodation
Hotel – Deluxe Mongolian Yurts/ Gur Camps
Motorbike
KTM Motorcycles / Royal Enfield Himalayan
Level of Difficulty
Moderate
Average Daily Distance
239kms
Total Distance
1,672 Klms
Licence
Yes, you need a Licence to go on this adventure. Also you need a valid License to obtain travel insurance.
Excluded
Kindly note: – If you would like to explore other parts of Mongolia or wish to extend your stay at Ulaanbataar, we will be more than happy to organise it for you on additional cost.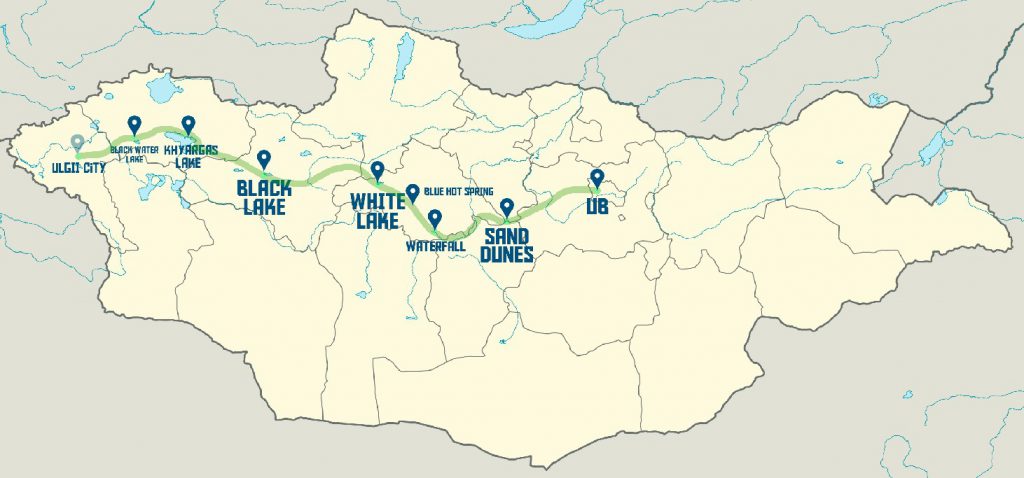 Departure Time

29th June - 14th July 2020
1
Day 5: Ulaanbaatar to Elsen Tasarkhai
(220km, 6-7hrs, 100% off-road)
Checkpoints: Ulaanbaatar – 164km - Erdensant village - 56km - Elsen tasarkhai dunes
All riders will be transferred with the bus out of the city for the start of the adventure. Our first destination on 2 wheels is the sand dunes. Elsen tasarkhai is an 80km length of the Mongol Els sand dunes, which stretch from the Tuv, Uvurkhangai, and Bulgan provinces all the way west to become part of the Khugnu Khan mountain range.
Overnight in the tent/Yurt camp.
2
Day 6: Elsen Tasarkhai sand dunes to Orkhon Waterfall
(173km, 7-8hrs, 100% off-road)
Checkpoints: Elsen tasarkhai dunes – 68km - Karakorum city - 75km – Bat-ulzii village – 30km - Waterfall
Saddle your steed for the steepest Mongolian waterfall, the Orkhon, in Orkhon Valley, a Unesco World Heritage Site. On the way we'll stop off in the old Mongolian capital city of Karakorum.
Dinner and overnight stay right at the waterfall in a Ger/Yurt Camp.
3
Day 7: Orkhon Waterfall to Zaankhushuu village "Elephant trunk"
(169km, 6-7hrs, 100% off-road)
Checkpoints: Waterfall – 144km - Tsetserleg city - 25km – Zaankhushuu village
From the waterfall, we will ride mountain and forest tracks to the western part of Mongolia and ultimately to our lunch stop, the "Blue" hot spring.  Here we will take some time to relax in the natural hot water, before continuing on our journey to the village of Zaanskhushuu, which means elephant trunk. We will have opportunities to see how Nomads live in villages and enjoy some Mongolian hospitality and local cuisine.
Overnight stay at the river in a Ger/Yurt Camp.
4
Day 8: Zaankhushuu to White Lake
(155km, 8hrs, 100% off-road)

Checkpoints: Zaankhushuu village – 105km - Chuluut valey - 50km – White lake
This is the longest ride of the tour, which will take us to one of the purest water lakes in Mongolia, White Lake in the Khangai Mountains.  The dormant Khorgo volcano lies just east of the lake.
Overnight in Ger.
5
Day 9: White Lake to Black Lake
(328km, 8hrs, 100% off-road)

Checkpoints: White Lake – 35km - Tariat village - 35km – Avgaldai village – 170km – Ider village – 88km – Black Lake
From White Lake we are going to the Black Lake in the Zavkhan province in the western part of Mongolia.  This lake is surrounded by sand and rocky mountains. We will ride along high mountains and cliffs with stunning landscapes of Zavkhan province.
Overnight in the Ger.
6
Day 10: Black Lake to Khyargas Lake
(243km, 8hrs, 100% off-road)

The Khyargas lake is one of four lakes which cover more than 1000km² in Mongolia. Years of rainwater drainage have carved many creeks and chutes leading out of this lake. On the southern side, the white marble rocks offer spectacular scenery. Fishing is popular at Khyargas Lake and we'll have an opportunity to partake as well.
Overnight in Ger.
7
Day 11: Khyargas Lake to Black Water Lake
(214km, 5-6hrs, 100% off-road)

Checkpoints: Khyargas Lake – 139km - Naranbulag village - 75km – Black Water Lake
Perpetually snow capped peaks overhang the boggy banks of the Black Water Lake. In the middle, Ak-Bashi (White Head) Island separates the lake into a Southern and Northern part.
Overnight in Ger.
8
Day 12: Black Water Lake to Ulgii's Eagle Hunters
(170km, 5hrs, 100% off-road)

Finally we reach Ulgii city where 80% of the Kazakh people live. The afternoon is spent in cultural immersion with a tour through Kazakh traditions and some time spent with a Kazakh family. We will witness a display of the talents of the eagle hunters and their eagles.
Dinner with Kazakh family after which we'll spend the night in traditional Kazakh Yurts which are different from normal Mongolian Yurts.
9
Day 13: Back to Ulaanbaatar
(3hr flight)

It is time to end our Tour and take a flight back to the city. It is time to end our Tour and take a flight back to the city, full day to participate in the Naadam Festival.
Overnight in Hotel.
10
Day 14: Ulaanbaatar and departure
Morning after breakfast will be free to enjoy more competition of the Nadaam Festival. Baggage will be stored at your hotel and you will be transported late afternoon for the flight to Beijing for homeward connecting flights.
At the end of the Temujin Mongolian tour, you will have had an enchanting experience and have met many new friends all along the way. Mid Life Adventures ensures that we will provide you with life time memories of times and places that you would never have considered.
All our adventures are all about 'the journey' rather than the destination. It is now your time to enjoy and Mid Life Adventures will make it happen for you.
Add-on Best of Beijing Tour: Additional cost USD $800 (Est.)
Day 1 Arrival Beijing. Day at leisure.
Accommodation in 4 Star resort.
Day 2 Beijing
Morning after breakfast we will visit the Great Wall of China which is a full day tour. Overnight at four star Hotel in Beijing. (Breakfast+Lunch).
Day 3
Beijing Tour of Forbidden City, Summer Palace, Tiananmen Square and whatever else we can fit in. (Breakfast and lunch)
Day 4
Pickup from hotel 10 am. Additional tours. (Breakfast and lunch) Drop off late afternoon for flight to Ulaanbaator. Welcome to Mongolia!  All riders will be picked up from the airport and transferred to a hotel in the city centre, where we will meet the crew and receive a briefing on safety and rules.
Dinner with the crew and overnight stay at a hotel. (depending on arrival time)
Below cost for:
| | |
| --- | --- |
| No. of Riders | Cost in USD per person |
| 10 Riders (maximum) | from $3,200 (USD) |
| | |
| --- | --- |
| Three day Beijing Tour included | $4,000 (USD) per person |
| | |
| --- | --- |
| Single Room Supplement:  |         USD 600 Mongolia / Beijing $450 |
Note: Motorcycle security per bike 300 EURO/USD will be taken by Guide at the time of bike handover to Clients. Security will be return at the end of the tour.
Please note Clause 10 of Terms and conditions in relation to Cancellation.
Flights and Luggage
Jenny Gill of New Farm Travel (Email jenny@newfarmtravel.com.au,  Ph: 07 33586588) has been appointed to be used exclusively by Mid Life Adventures for all travel arrangements. Jenny is a sister of one of our regular adventurers and has excellent knowledge of all areas we travel.
Flights Beijing > Ulaanbaatar > Beijing are in short supply at Nadaam festival time and will be booked well before the tour begins.
For all flights we request you will deal directly with Jenny and NOT through MLA. Jenny will advise closer to departure date of the 'best ' flight available to have you in to Beijing on Saturday 30th June 2018 departing Beijing 13th July for your on forward flight to your home destination.
In regard to luggage, I have found it difficult to travel on adventure rides internationally with less than 30 kgs of luggage so all flight costing will include 30 Kg of checked luggage plus 7kg of carry-on luggage which is allowed by all airlines.
If you have any queries on flights or luggage, call Jenny direct.
Motorcycle Expeditions (Tour provider) & Logistics
Every tour is escorted by experienced motorcyclists (Guides) who are well able to take care of all planning and logistics whilst in Mongolia. Our tours are designed to cater for riders of all abilities looking to make your adventure ride something extra-special. We know how important the time is to you, so we don't skimp on organisational detail. Whatever tour you choose, we'll take care of all transport and accommodation while you're here, and then whisk you safely back to the airport for your trip home -simple as that.
Documents
Riders must bring with them appropriate travel insurance and documents as follows:
Full Motorcycle License valid
International Driving License / Permit valid
You are required to bring your travel insurance policy with you on the tour.
Insurance company, Riders are requested to handover the insurance numbers and addresses to our guide.
Without these documents you will not be able to take part in your chosen tour
(Our safety is our primary concern)
A word of caution
Kindly note this itinerary can be changed or modified due to any uncertainty of Mother Nature such as landslides, heavy rainfall blocks roads. This is beyond our reach. In this case our guide will take the appropriate decision according to the situation on the spot, which gives priority to your safety.